VA - De Pre Historie 80 (2012)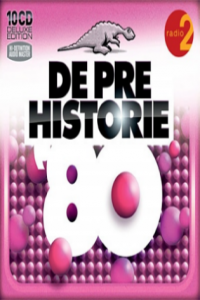 Artist = Various Artists
Year = 2012
Genre = Various
Format = Opus (~128 CBR, 48kHz)
Opus ~128 vs Original Lossless Audio
24 bit/192 kHz
De Pre Historie 80 (CD 1)
Bette Midler - The rose [1979]
Christopher Cross - Sailing [1979]
Dirt Band - An American dream [1979]
Doobie Brothers - Real love [1980]
George Benson - Give me the night [1980]
Godley & Creme - An Englishman in New York [1979]
Jona Lewie - You'll always find me in the kitchen at parties [1980]
Marva - Herinneringen [1980]
Odyssey - Use it up and wear it out [1980]
Ramones - Rock 'N' Roll high school [1979]
Ray, Goodman & Brown - Special lady [1979]
Robert Palmer - Johnny and Mary [1980]
Rupert Holmes - Escape (The Piña Colada song) [1979]
Status Quo - What you're proposing [1980]
Teri DeSario - Yes I'm ready (ft K.C. & The Sunshine Band) [1979]
The Brothers Johnson - Stomp! [1980]
The Pointer Sisters - He's so shy [1980]
The Romantics - What I like about you [1979]
De Pre Historie 80 (CD 2)
Benny Neyman - Vrijgezel [1981]
Bill Wyman - (Si si) Je suis un Rock star [1981]
Brooklyn, Bronx & Queens Band - On the beat [1981]
Champaign - How 'bout us [1981]
Chaz Jankel - Ai no corrida [1980]
Christopher Cross - Arthur's theme (Best that you can do) [1981]
Grover Washington Jr. - Just the two of us (ft Bill Withers) [1980]
Hall & Oates - Kiss on my list [1980]
Jona Lewie - Stop the cavalry [1980]
Juice Newton - Queen of hearts [1981]
Kenny Rogers - Lady [1980]
Level 42 - Love games [1981]
Night People - Again [1980]
Scooter (BE) - You [1980]
Sheena Easton - Morning train (or ''9 to 5'') [1980]
Susan Fassbender - Twilight café [1980]
Toy (BE) - Suspicion [1980]
Viola Wills - If you could read my mind [1980]
De Pre Historie 80 (CD 3)
Al Jarreau - Roof garden [1981]
Captain Sensible - Happy talk [1982]
David Christie - Saddle up [1982]
Dazz Band - Let it whip [1982]
Falco - Der kommissar [1981]
Fat Larry's Band - Zoom [1982]
Godley & Creme - Wedding bells [1981]
Joe Jackson - Real men [1982]
Junior - Mama used to say [1981]
Lori Spee - How many times [1980]
Patrice Rushen - Forget me nots [1982]
Rob De Nijs - Hou me vast (Want ik val) [1981]
Roxy Music - More than this [1982]
Santana - Hold on [1982]
Shakatak - Easier said than done [1981]
Tom Tom Club - Under the boardwalk [1982]
Toto - Rosanna [1982]
Weeks & Company - Rock your world (Joho joho) [1981]
De Pre Historie 80 (CD 4)
Club House - Do it again (Medley with Billie Jean) [1983]
Culture Club - Time (Clock of the heart) [1982]
Donna Summer - She works hard for the money [1983]
Earth Wind & Fire - Fall in love with me [1982]
Eddy Grant - Electric Avenue [1982]
Gary Byrd & The G.B. Experience - The crown [1983]
Irene Cara - Fame [1980]
KC and the Sunshine Band - Give it up [1982]
Kool & the Gang - Hi de hi, hi de ho [1982]
Marvin Gaye - Sexual healing [1982]
Paul Carrack - I need you [1982]
Tears For Fears - Change [1982]
The Motels - Suddenly last Summer [1983]
The Style Council - Long hot Summer [1983]
Urbanus - Awel mercie [1983]
Wham! - Young guns (Go for it) [1982]
Yarbrough & Peoples - Heartbeats [1983]
Yello - I love you [1983]
De Pre Historie 80 (CD 5)
Alice & Battiato - I treni di Tozeur [1984]
Billy Idol - Eyes without a face [1983]
Chaka Khan - I feel for you [1984]
Change - Change of heart [1984]
Clint Eastwood & General Saint - Stop that train [1983]
Dan Hartman - I can dream about you [1984]
Hall & Oates - Adult education [1983]
John Waite - Missing you [1984]
Level 42 - Hot water [1984]
Lloyd Cole and the Commotions - Perfect skin [1984]
Schmutz - Love games [1984]
Scritti Politti - Absolute [1984]
Shannon - Let the music play [1983]
The Pointer Sisters - Automatic [1983]
Urbanus - The Scratchin' Zwaantjes [1984]
Wang Chung - Dance hall days [1983]
Wham! - Wake me up before you go-go [1984]
Will Tura - Vergeet Barbara [1984]
De Pre Historie 80 (CD 6)
Alison Moyet - That ole devil called love [1985]
Dan Hartman - We are the young [1984]
Dazz Band - Let it all blow [1984]
DeBarge - Rhythm of the night [1985]
Duran Duran - Save a prayer [1982]
Lloyd Cole and the Commotions - Rattlesnakes [1984]
Narada Michael Walden - Gimme gimme gimme (ft Patti Austin) [1985]
Nik Kershaw - The riddle [1984]
Princess - Say I'm your number one [1985]
RAH Band - Clouds across the Moon [1985]
Starship - We built this city [1984]
Stephen Tin Tin Duffy - Kiss me [1982]
Steve Arrington - Feel so real [1985]
Suzanne Vega - Marlene on the wall [1985]
Talking Heads - Slippery people [1983]
The Temptations - Treat her like a lady [1984]
Wang Chung - Everybody have fun tonight [1986]
Yello - Vicious games [1985]
De Pre Historie 80 (CD 7)
Bruce Hornsby and the Range - The way it is [1986]
Clarence Clemons - You're a friend of mine (ft Jackson Browne) [1985]
Commodores - Goin' to the bank [1986]
Hollywood Beyond - What's the colour of money. [1986]
Isley-Jasper-Isley - Caravan of love [1985]
Lionel Richie - Dancing on the ceiling [1986]
Mai Tai - Female intuition [1986]
Mr. Mister - Kyrie [1985]
Robert Palmer - Addicted to love [1985]
Run-DMC - Walk this way (ft Aerosmith) [1986]
Sandra Kim - J'aime la vie [1986]
Sheila E. - A love bizarre [1985]
Sophia George - Girlie girlie [1985]
Steve Winwood - Higher love [1986]
Talking Heads - And she was [1985]
The Bangles - Manic monday [1985]
The Housemartins - Happy hour [1986]
The Real Thing - You to me are everything [1976]
De Pre Historie 80 (CD 8)
ABC - When smokey sings [1987]
Cutting Crew - (I just) Died in your arms [1986]
Eric B. & Rakim - Paid in full [1987]
Gino Vannelli - Wild horses [1987]
Gloria Estefan & Miami Sound Machine - Rhythm is gonna get you [1987]
Labi Siffre - (Something inside) So strong [1987]
Liliane Saint-Pierre - Soldiers of love [1987]
Lionel Richie - Ballerina girl [1986]
Los Lobos - Come on, let's go [1983]
Oran ''Juice'' Jones - The rain [1986]
Steve Winwood - Back in the high life again [1986]
Suzanne Vega - Luka [1987]
Swing Out Sister - Breakout [1986]
Terence Trent D'Arby - If you let me stay [1987]
Vesta Williams - Once bitten twice shy [1986]
Viktor Lazlo - Breathless [1987]
Wind - Lass die Sonne in dein herz [1987]
Won Ton Ton - I lie and I cheat [1987]
De Pre Historie 80 (CD 9)
Début De Soirée - Nuit de folie [1988]
Eros Ramazzotti - Ma che bello questo amore [1987]
Gloria Estefan & Miami Sound Machine - Anything for you [1987]
Hithouse - Jack to the sound of the underground [1988]
Johnny Hates Jazz - Shattered dreams [1987]
Michael Ball - Love changes everything [1988]
Natalie Cole - Pink Cadillac [1987]
Paolo Conte - Max [1987]
Patrick Swayze - She's like the wind (ft Wendy Fraser) [1987]
Salt-N-Pepa - Twist and shout [1988]
S-Express - Theme from S-Express [1988]
The Christians - Harvest for the world [1988]
The Four Seasons - December, 1963 (Oh, what a night) (Ben Liebrand re-mix 1988)
The Housemartins - Build [1987]
The La's - There she goes [1988]
Wet Wet Wet - Angel eyes (Home and away) [1987]
Will Tura - Hij kan niet zonder jou [1987]
Womack & Womack - Life's just a ballgame [1988]
De Pre Historie 80 (CD 10)
Arthur Baker - The message is love (ft The Backbeat Disciples & Al Green) [1989]
Bobby Brown - My prerogative [1988]
Buster Poindexter - Hot hot hot (ft His Banshees Of Blue) [1987]
Crowded House - Into temptation [1988]
Eros Ramazzotti - Musica è [1988]
Freiheit - Keeping the dream alive (ft The London Symphony Orchestra & The Jackson Singers) [1988]
Gloria Estefan - Can't stay away from you (ft Miami Sound Machine) [1987]
Holly Johnson - Americanos [1989]
Joe Jackson - (He's a) Shape in a drape [1988]
Lou Rawls - Fine brown frame (ft Dianne Reeves) [1989]
Natalie Cole - Miss you like crazy [1989]
René Froger - Alles kan een mens gelukkig maken (Een eigen huis) (ft Het Goede Doel) [1988]
Rory Block - Lovin' whiskey [1988]
Stan Ridgway - Calling out to carol [1989]
Tears For Fears - Sowing the seeds of love [1989]
Texas - I don't want a lover [1989]
Tina Turner - Steamy windows [1989]
Will Tura - Mooi 't leven is mooi [1989]